The coast of Cavallino, that goes on without interruption for 15 km from Cavallino Lighthouse to Punta Sabbioni Lighthouse, is made from the pine forest and the forest, from beaches and seaside resorts, some reserved camping.
One of the access to the sea through the pine forest and leads directly to the beach is located at Punta Sabbioni, in Retrone Street Ca 'Savio. The beach here is free and the Kiosk (Chiosco) Fabiola, completely renovated in 2012, has become a reference point for the coast of Cavallino. Among the services available: small kitchen with snack bar, hot showers, toilets and changing rooms, wheelchair accessible, the presence of changing table for babies / children, sun loungers and parasols last generation, wi-fi.
A true oasis of relaxation where the friendliness and helpfulness of the owners, Lucio and Fabiola, you will happily spend the day at sea.
This access to the sea will take you to the PET'S BEACH AREA 
Information
Brunella recommends this kiosk because she has always found responsiveness to her needs. Suitable if you have small children and great for the variety of the menu for lunch : sandwiches and burgers, grilled chicken, salads, cold dishes, ect ect .
Among the pine forest / woodland and the Kiosk Fabiola there is a large parking lot , not guarded and free. The umbrella are spaced apart to ensure complete peace of mind and are equipped with a modern system of remote opening two comfortable chairs and a small table with adjustable glove compartment . In the area dedicated to the locker room, you can keep your children's toys or other equipment , not having to carry every day at the beach.
Evening Appointment: for four nights a week, grilled meat and polenta! Wednesday, Friday, Saturday and Sunday, by appointment only.
It is advisable to book a day in advance: tel. Lucio +39 338 6264850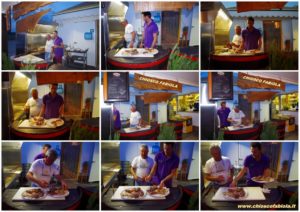 Posted on 24/04/2016
Last modified: 24/04/2017
---